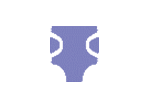 Well-child checkups are the best way to make sure your baby is growing and developing in a healthy way. It is recommended that children get at least 6 well-child checks by the age of 15 months. When you complete your 5th (9-month) and 6th (12-month) Texas Health Steps well-child checks, we'll send you up to 2 free packs of diapers.
How do I claim my extra benefit?
You will receive a post card that you'll need to take to your physician. At the end of your child's 5th well-child check, fill out one half of the card and ask your doctor to sign it verifying your visit. Mail the post card, in a stamped envelope, to Texas Children's Health Plan. You can claim this extra benefit a second time at the time of your child's 6th well-child check by repeating the process described above to claim your extra benefit.
How will I receive it?
You will receive your extra benefit via U.S. Mail. If you are a patient at The Center for Children and Women, you will have the option to receive extra benefit on-site, upon completion of your child's 5thth and 6th month well-child checkups.
Who is eligible?
This extra benefit is available to all members enrolled with Texas Children's Health Plan and are part of the Texas STAR, CHIP, or STAR Kids programs.
Is this extra benefit available in my service area?
This extra benefit is available to members in all covered service areas, including Harris, Jefferson, and Northeast.