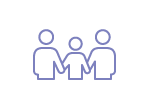 Texas Children's Health Plan understands that caring for a special needs child can be challenging. Our parent training classes can help you understand your child's needs while providing you with a valuable support system. Texas Children's Health Plan educators offer parent training classes on a variety of topics relevant to STAR Kids members and their parents. Topics include navigating special education services, understanding community resources, and advocating for children with intellectual or developmental disabilities.
How do I claim my extra benefit?
If you are the parent or caregiver of a STAR Kids member, you will receive a postcard in the mail inviting you to take part in an upcoming parent training class in your area. You can also call STAR Kids Member Services toll-free at 1-800-659-5764 or visit texaschildrenshealthplan.org to learn about and register for upcoming classes.
Who is eligible?
STAR Kids members
Is this extra benefit available in my service area?
Available in Harris, Jefferson, and Northeast service areas.