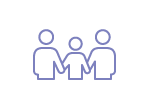 Texas Children's Health Plan understands that taking care of a child with special needs is a heavy responsibility. Our parenting training classes cover many topics that can help you understand the special needs of your child.
How do I claim my extra benefit?
You will receive a postcard in the mail informing you of an upcoming class. You can sign up for this class by clicking on the "Sign Up" button below or by calling 1-800-990-8247.
Who is eligible?
STAR Kids members up to 20 years old and their parents.
Is this extra benefit available in my service area?
Available in Harris, Jefferson and Northeast service areas.