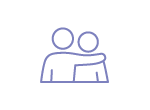 Texas Children's Health Plan understands that caring for a special needs child can be challenging. To relieve unpaid primary caregivers, we offer 24 hours of in-home respite services per year as an extension of home and community-based services.
How do I claim my extra benefit?
To request respite care services, contact your child's Service Coordinator. Services will be provided by a third-party vendor or a personally-selected individual who has been approved by your child's Service Coordinator. Services must be requested in 4 hour increments.
Who is eligible?
Non-waiver STAR Kids members who are getting personal assistance services, or STAR Kids members who have exhausted the respite hours available through State Waiver Programs.
Is this extra benefit available in my service area?
Available in Harris, Jefferson, and Northeast service areas