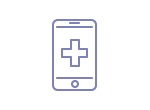 Are you or your child not feeling well? Our registered nurses are available to help 24 hours a day, 7 days a week. Just call Texas Children's Health Plan's Nurse Help Line toll-free at 1-800-686-3831. Be ready to give your name, member ID number and your symptoms.
Texas Children's Health Plan's 24-Hour Help Line nurses cannot diagnose problems or recommend specific treatments. They can provide health information and tell you where to go to get treatment. They can also tell you how to manage your condition at home when you don't feel well, but don't need to see a doctor. This is not an emergency line or a substitute for your doctor's care.
How do I claim my extra benefit?
You can call the 24-hour nurse help line number directly at 1-800-686-3831. The patient must be an active member.
Who is eligible?
CHIP, STAR and STAR Kids members.
Is this extra benefit available in my service area?
Available in Harris, Jefferson and Northeast service areas.