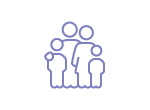 Texas Children's Health Plan understands the challenges of parenting a child with behavioral health needs. A behavioral health parenting class can help your family navigate these challenges. Once you complete a parenting class in your community, you'll get a $25 reward card!
How do I claim my extra benefit?
If your child has a behavioral health diagnosis and is enrolled in the Case Management Program, you can turn in a certificate of completion of a behavioral health parenting class to your child's case manager. You can also call the Member Services phone number listed on the back of your child's Member ID card or the Care Coordination Department's toll-free number at 1-844-780-1154.
Who is eligible?
CHIP, STAR, and STAR Kids members with a behavioral health diagnosis who are enrolled in the Texas Children's Case Management Program. To join Case Management, call Care Coordination toll-free at 1-844-780-1154.
Is this extra benefit available in my service area?
Available in Harris, Jefferson, and Northeast service areas.