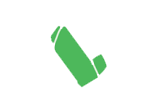 Texas Children's Health Plan rewards you for taking control of your asthma! When you don't have any symptoms, you won't cough or wheeze, you can run and play as you want, you won't have asthma attacks, and you won't have to go to the emergency room. When you complete a series of 6 (six) asthma education classes over the course of 3 (three) sessions, we'll send you a $50 gift card.
How do I claim my extra benefit?
You can register for this class by calling 832-828-1005, or visit the Texas Children's Health Plan web site.   
How will I receive it?
Upon registration, you will receive a confirmation email with the time and location of the class. All classes will be held at The Center for Children and Women, either Greenspoint or Southwest locations.
Who is eligible?
This class is available at no cost to members ages 6 to 18 with an asthma diagnosis who are in the STAR, CHIP, or STAR Kids programs. 
Is this extra benefit available in my service area?
Class is available to members within the Harris Service area.