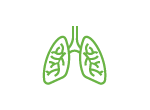 Take steps to manage your child's asthma symptoms. You and your child can attend a series of asthma education classes to learn more about asthma symptoms and how to manage them. Once you complete all 3 classes, you'll get a $50 reward card!
How do I claim my extra benefit?
Call 832-828-1005 to sign up for asthma education classes.  
Who is eligible?
CHIP, STAR, and STAR Kids members ages 6 to 18 with an asthma diagnosis
Is this extra benefit available in my service area?
Available in Harris service area.