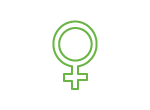 Get a routine cervical cancer screening during your annual well-woman exam to take advantage of this great reward!
Reward:
$25 reward card.
How do I claim my extra benefit?
Once you have completed your Cervical Cancer screening, you can redeem your reward by clicking on the "Redeem" button below. Texas Children's Health Plan will confirm your eligibility and you will receive your reward card in the mail.
Who is eligible?
STAR members ages 21 to 64 who are not pregnant and are screened for cervical cancer during the eligible year (September 1, 2021 - August 31, 2022).
What service area is this benefit available in?
Harris and Jefferson service areas.