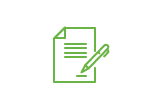 Complete your child's Screening and Assessment Instrument (SAI) and sign your child's Individual Service Plan (ISP) within 45 days of joining Texas Children's Health Plan and get a $25 reward card.
How do I claim my extra benefit?
If you have questions about your child's SAI and ISP, you can call STAR Kids Member Services toll-free at 1-800-659-5764.
Who is eligible?
STAR Kids members.
Is this extra benefit available in my service area?
Available in Harris, Jefferson, and Northeast service areas.