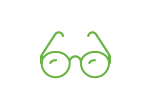 A healthy brain needs healthy eyes. By keeping your eyes healthy with our vision benefit, you keep your brain healthy, which improves your overall quality of life!
Reward:
An upgrade of $110 for framed glasses or an allowance of $90 for contact lenses or contact fittings
How do I claim my extra benefit?
Call Envolve Vision to help you find a participating provider for your specific plan:
STAR: 1-844-683-2305
CHIP: 1-844-520-3711
STAR Kids: 1-844-212-7269
During your eye exam, tell the vision provider that you would like to receive the extra benefit of either up to $110 toward glasses or $90 toward contacts/contact fitting.
Who is eligible?
CHIP, STAR and STAR Kids members up to 18 years old.
What service area is this benefit available in?
Harris, Jefferson and Northeast service areas.