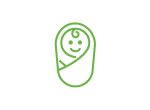 Well-child checkups are the best way to make sure your baby is growing and developing in a healthy way. Bring your child in for 7 well-child checkups by the age of 15 months and get a $20 reward card for each checkup (up to $140 total)!
How do I claim my extra benefit?
You will get an envelope in the mail telling you about well-child checkups. You can also download a claim form here. Fill out one of the forms included with the envelope or claim form and bring it with you to your child's well-child checkup for their primary care provider (PCP) to sign. Once you mail the form back to Texas Children's Health Plan, we'll send you a $20 reward card!
You can get up to 7 reward cards for each well-child checkup your child completes before the age of 15 months, for a total of $140 in reward cards.
Who is eligible?
CHIP, STAR, and STAR Kids members age 15 months or younger.
Is this extra benefit available in my service area?
Available in Harris, Jefferson, and Northeast service areas.