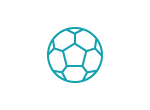 Healthy habits must start early for the benefits to last a lifetime. To promote healthy activities, Texas Children's Health Plan offers members free training at soccer clinics!
How do I claim my extra benefit?
Texas Children's Health Plan will send you an invitation to the soccer clinic via email and/or a mailer sent to your home. You will need to register to attend. Registration is on a first-come, first-served basis.
Who is eligible?
CHIP, STAR and STAR Kids members from 7 to 12 years old.
Is this extra benefit available in my service area?
Available in Harris service area.