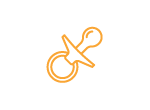 Our Becoming a Mom class will help you prepare for what happens during and after pregnancy so you can be ready when your new baby arrives. You will learn about the signs and symptoms of pre-term labor, the birth and delivery process, and the importance of postpartum care for mom and baby. You will also learn about parenting styles and handling the changes motherhood will bring to your life. Once you complete this class, you will get 2 packs of diapers!
How do I claim my extra benefit?
You can sign up for this class over the phone by calling 832-828-1430.
Educational classes are no-cost to members. You will get 2 packs of diapers after completing this class.
Who is eligible?
CHIP, STAR, and STAR Kids members who are pregnant.
Is this extra benefit available in my service area?
Available in Harris, Jefferson, and Northeast service areas.