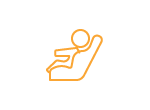 Car seats are your best defense for protecting your baby while you drive. Join this class to learn how to carefully read a car seat safety label, correctly install a car seat, learn appropriate positions and sizes of car seats as your child grows, and what items are safe to be around your baby while in a car seat. Once you complete this class, you will get 2 packs of diapers!
How do I claim my extra benefit?
You can sign up for this class over the phone by calling 832-828-1430.
Educational classes are no-cost to members. You will get 2 packs of diapers after completing this class.
Who is eligible?
CHIP, STAR, and STAR Kids members who are pregnant.
Is this extra benefit available in my service area?
Available in Harris service area.