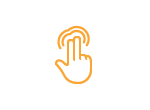 Be prepared to take action if there is an emergency with your baby. This non-certification class focuses on teaching the guidelines and techniques put forth by the American Heart Association for performing CPR. You will learn how to respond if your baby is choking and/or not responding. Once you complete this class, you will get an infant CPR kit and 2 packs of diapers!
How do I claim my extra benefit?
You can sign up for this class over the phone by calling 832-828-1430.
Educational classes are no-cost to members. You will get an infant CPR kit during the class and 2 packs of diapers after completion.
Who is eligible?
CHIP, STAR, and STAR Kids members who are pregnant.
Is this extra benefit available in my service area?
Available in Harris, Jefferson, and Northeast service areas