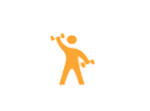 Do you want to learn how to live a healthier life?  If you or your child are 10 to 18 years old, you can sign up for our Keep Fit Program and learn fun, easy ways to stay active and make smart food choices. And it's at no cost to you! The program offers a 10-week exercise and nutrition class, healthy cooking demos, fun exercises to do at home, quarterly newsletters, an assigned health coach, and other special activities.
How do I claim my extra benefit?
Keep Fit programs are in-person, at a variety of locations across our service areas. Registration is available for members by calling Member Services or visiting the Keep Fit website.
How will I receive it?
Upon registration, members will receive a confirmation email providing class times, locations, and how to take full advantage of all resources available through this program. 
Who is eligible?
This extra benefit is available to all members enrolled with Texas Children's Health Plan and who are part of the Texas STAR or CHIP programs. Members should be between ages 10 and 18 with a BMI of 28 or above.
Is this extra benefit available in my service area?
Extra benefit is available to members in the Harris and Jefferson service areas.