Make sure your contact information is up to date!
Provide us with your updated contact information.
Click here!
Coverage Alert!
Close dialog
Renew My Plan
Coverage Alert!
Don't lose your Medicaid Plan!
Medicaid rules are changing! Very soon, some members on Medicaid will need to renew their coverage. If you don't renew, you risk losing your plan and your access to care.
Why is this change happening?
On Thursday, December 29, 2022, the Consolidated Appropriations Act, 2023 (CAA, 2023) was enacted. The CAA ended the auto-renewals for Medicaid. It did not, however, state the end date of the COVID-19 public health emergency. That is still in effect as of January 2023.
How will I know when it's time for me to renew my coverage?
Texas Health and Human Services Commission (HHSC) will be reaching out to members who need to renew their coverage. They will be sending mail correspondence with specific directions and timing for each individual. Keep your eye out for a bright yellow envelope!
Image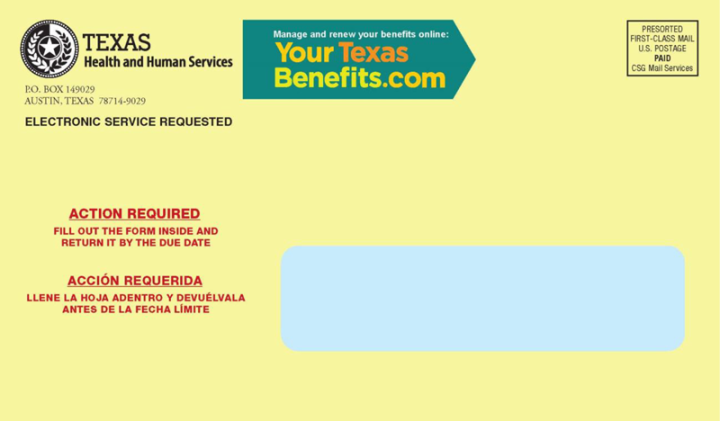 So, what do I need to do today?
Image

Step 1 – Make sure your contact information is up to date!

This will ensure HHSC can reach you so that you don't miss out on the renewal process. You have two options:

Visit YourTexasBenefits.com or call 2-1-1, option 2, to update your mailing address, email address and phone number.
Temporarily, HHSC has approved Texas Children's Health Plan to intake contact information. We will then provide your updated information to HHSC for processing. Click here to provide us with your updated contact information.

Update Your Contact Information

 

Image

Step 2 – Prepare to give HHSC additional documents.

You may need to share documents that prove your child's social security number and your family income within the last 30 days. (Pregnant women may also need to provide their current address.) Being prepared to gather this information for HHSC will save you time later.

 

Image

Step 3 – Watch your mailbox.

All communication from HHSC about the renewal process will be shared with you via mail. Check your mail regularly! You don't want to miss or lose the yellow envelope from HHSC.

 
Public Health Emergency FAQ
Why did this happen?
There are many reasons why your Medicaid coverage has ended, including your income may be too high, you may have moved or you may not have sent in your renewal paperwork.
What renewal paperwork?
You should have received your renewal packet from HHSC sharing your deadline to renew Medicaid. If you chose to receive electronic communications, they would have sent it to your email inbox[GMA1] .
What do I need to do?
If you received the renewal packet or email, but have not filled it out, it is important you act quickly. HHSC gives you 90 days after your deadline to submit your paperwork!
You can do this in the following ways:
Mail your completed renewal packet back to HHSC.
Call HHSC at 2-1-1, option 2.
Submit your paperwork to HHSC online at yourtexasbenefits.com
I didn't get a notice from HHSC. What should I do?
You should contact HHSC as soon as possible at the phone number and/or website listed above. If you receive electronic communications, check your junk mail folder. If you recently moved, you will need to update your mailing address with HHSC.
What if I have questions about my renewal packet?
You may reach out to HHSC for help by phone or online at the contact information above.
What if I or my child no longer qualify for Medicaid. What other choices do I have?
You may find new health coverage at low- or no-cost at these options:
The Children's Health Insurance Plan may be available if you make too much to sign up for Medicaid. Go to texaschildrenshealthplan.org/chip to learn more.
Healthy Texas Women offers a wide range of women's health programs and family planning services. Go to healthytexaswomen.org to learn more and apply.
You may also find a health plan at healthcare.gov. Plans can cost as little as $10 per month.
Please be alert for any potential scams regarding Medicaid and CHIP enrollment and renewal. Do not share your personal/banking/credit card information or give money with anyone who calls claiming to be from the Texas Health and Human Services Commission (HHSC). HHSC will never ask you to pay them to keep your Medicaid or CHIP coverage.
Please keep your contact information up-to-date to be sure you receive official HHSC notices.
Click here to update your information.

Good Health Starts Here!
Renew now to continue to take advantage of our member exclusive extra benefits with our Healthy Rewards Program*, which includes:
Transportation assistance at no-cost
Rewards for important health checkups
Portable crib at no cost for new moms
Meals for moms
Health Education Events
Much more!