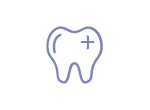 Good overall health starts with good dental health. Adult members age 21 years and older who are not eligible for EPSDT services are automatically enrolled in dental benefits, which include 2 routine exams and 2 cleanings every year, X-rays, fillings, and emergency exams.
How do I claim my extra benefit?
Adult STAR members (age 21 years and older) are automatically enrolled for dental benefits. For help finding a dental provider and verifying your coverage, call the toll-free phone number listed on the Dental ID card you got in the mail after joining Texas Children's Health Plan.
Who is eligible?
STAR member age 21 years and older.
Is this extra benefit available in my service area?
Available in Harris and Jefferson service areas.