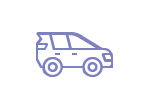 Do you need a ride to your doctor's appointment, the pharmacy, or a Texas Children's Health Plan class? We can help at no cost! If you need a ride but Medicaid Transportation Management (MTM) can't help, we step in to take care of you and your family.
How do I claim my extra benefit?
You can call Member Services at CHIP 1-866-959-6555; STAR 1-866-959-2555; or STAR Kids 1-800-659-5764 for help getting a ride to appointments, the pharmacy, or Texas Children's Health Plan classes. The patient must be an active member and call at least 48 hours in advance to schedule the transportation help.
Who is eligible?
CHIP, STAR and STAR Kids members.
Is this extra benefit available in my service area?
Available in Harris, Jefferson and Northeast service areas.